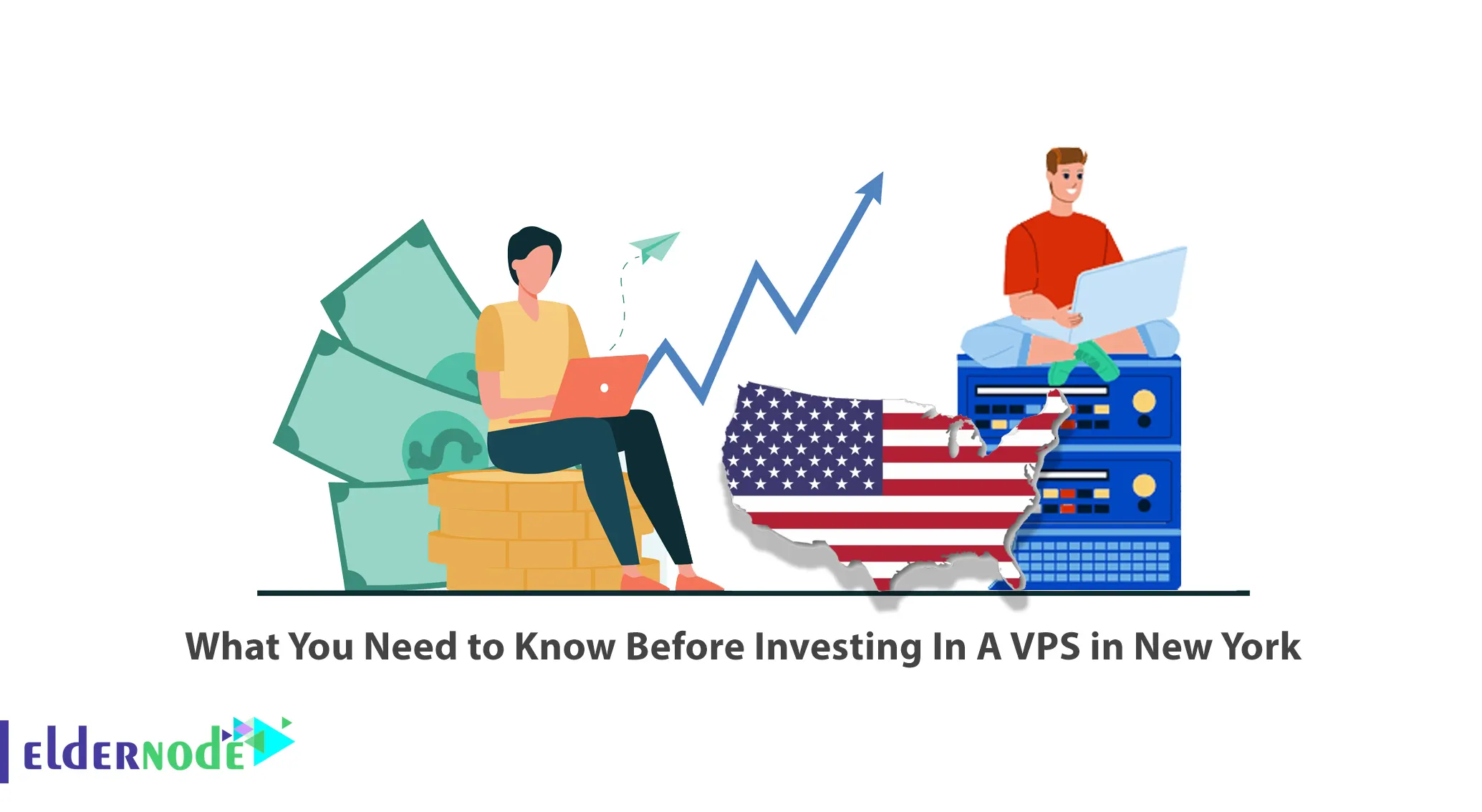 New York is the most populous city in the state of New York and the United States of America, which consists of 5 districts including Bronx, Brooklyn, Manhattan, Queens and Staten Island. In most data centers in New York, you will see an uptime of 99.9999% and an SLA of around 100%. In the rest of this article, we will explain to you What You Need to Know Before Investing In A VPS in New York. If you want to buy New York VPS and invest it, you can visit the plans offered on Eldernode.
Investing In A VPS in New York
As you know, VPS are controlled by supercomputers and are divided into smaller parts to be available to other users. VPS run with their own software and have very high power and speed. VPS are usually divided into different categories based on the operating system, virtualization model, and technology.
One of the important reasons for buying and investing in a New York VPS server is the specific IP of this country, which provides the possibility of using facilities for different users. Users who operate in various areas of website and e-commerce have well understood the importance of having a VPS server.
By investing in a New York VPS and connecting to it, you can enjoy all the benefits of an American user on various websites. In the rest of this article, we will tell you what you need to know before investing in a VPS in New York.
Understand the Cost of Investing in A VPS in New York
Typically, the cost of a VPS server in New York is lower than that of a dedicated server. Of course, you will have the same quality and speed as a real and physical server. But in general, in estimating the cost of building a VPS server, factors of general facilities, the system you want plays a major role in the final price. The amount of RAM, processor, disk space, monthly traffic used, etc. are all effective in your invoice figure.
Of course, the type of operating system used (Linux or Windows), the type of virtual machine, as well as the size of the port required to mount the virtual machine and share data and hardware are also considered as other factors affecting the cost of server virtualization. The costs related to DirectAdmin license and Cpanel and Litespeed licenses are usually calculated separately and annually.
It should be noted that New York VPS servers offered by Eldernode start at $12.99.
Research Performance Across Different Hosts and Plans
As you know, the best VPS servers have very high power and speed. The important thing is to be very careful in choosing service providers. However, you should check the following important points before buying and investing in VPS servers:
1. Using KVM or VMWARE services
2. VPS server hardware power
3. RAM, CPU and Disk
4. Installing HP, Super Micro, Dell virtualization machines in hardware servers
5. Use of enterprise grade hardware
6. The possibility of making a backup
7. VPS server management control panel (possibility of restarting the server, online viewing of RAM and CPU consumption, remaining free space, reinstalling the OS, changing the password of the virtual server, etc.)
Therefore, after reviewing the points mentioned above, you should choose the best provider.
Look into the Customer Service Offered by Your Provider
The next important thing to consider when investing in New York VPS is the customer service provided by the provider. The provider from which you will purchase your desired service must be ready to identify your server problems and fix them in the shortest possible time.
The VPS server, with its round-the-clock operation, requires round-the-clock and continuous hardware and software monitoring by an experienced team in order to maintain the quality of the services it provides. Some of these services include:
– Solving hardware and software problems
– Prevention of network attacks such as Dos and DDos
– Installing antivirus, scanning the server and removing malicious software such as malware, Trojans and viruses
– Installing and upgrading the operating system or installed software, reinstalling Linux or Windows server version operating systems along with control panels
Consider Data Storage Management & Security Features
Information is an important resource in any business and like any other vital resource, it must properly managing. The constant change and advancement of technology has had a tremendous impact on the way business information is managing, even in very small businesses.
Nowadays, storing information in each collection is one of the most important challenges ahead. Generally, network managers will face issues related to information storage during the initial design of an organization's network or network optimization and updating.
Now, the huge amount of information in every organization requires a bigger space of devices for storage, for this reason, choosing the right plan for storing the information of an organization is very sensitive. If you carefully analyze your current situation and future needs, you can avoid the need for a time-consuming upgrade.
On the other hand, the issue of VPS server security is everywhere and in fact has become a major concern not only for many large companies but also for some independent individuals who have an online presence. Of course, this concern is completely reasonable because if the financial and private information is stolen, the content of the site is destroyed, or the information of the customers is destroyed, cyber risks will show their damage. Therefore, in no way should you be negligent in this area.
Make Sure You Follow Local Regulations for Digital Servers
All customers and users of the services of the service provider are obliging to comply with the local rules and regulations and terms and conditions for using digital servers. The philosophy of the existence of such laws is to ensure that while using the services of the service providers, the customers also respect the rights of other users and do not create conditions that disrupt the services of this company to others.
Conclusion
In order to support its customers and internet businesses as much as possible, Eldernode has provided specialized and ultra-specialized services in the field of VPS server, which will be provided to customers by experienced experts with the best quality and the cheapest price. If you have any questions about buying or investing in a VPS in New York, you can contact us from the comments, live chat or tickets section.