Buy Cheap USA VPS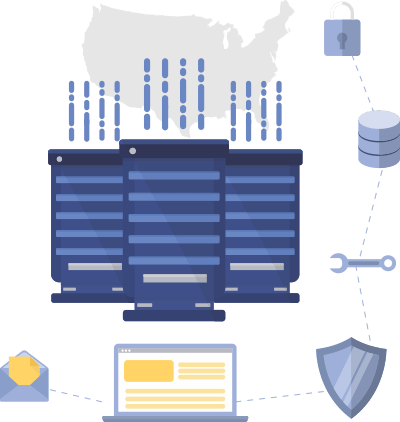 Buy cheap USA VPS Server from Eldernode. Eldernode Company, with the focus and policy of providing services to all users in the world, has made every effort to be able to provide services with the best quality at the best price.
Buy SSD Cheap VPS in USA with Bitcoin
Accordingly,
Eldernode
has considered the best price for USA virtual private servers so that all users in the world can benefit from these new services. You can also pay for your service after ordering, through Bitcoin, Litecoin, Ethereum, Dogecoin, Tether or other cryptocurrencies, or Perfect Money and PayPal or other
digital currencies
. USA Virtual Server provided with Linux (Centos, Debian, Ubuntu, Fedora, SUSE) and Windows operating systems (Windows Server 2012, Windows Server 2016, Windows Server 2019, Windows 10), and users can choose any operating system they want. The USA VPS Server is also available in more than
6 different
cities, And you will be able to choose them as you wish. USA VPS Features: Dedicated resources, Administrator access for
Windows VPS servers
and root access for VPS Linux servers, Ability to manage the server through the client area, Dedicated IP, SSD Storage, Instant activation after payment, providing very fast upload/download, and low latency.
The Benefits of Choosing a VPS In USA:
Make sure you're getting the best hosting experience possible with a
VPS server
located in the USA! Discover why now and begin your search today!
A) Increased Performance and Reliability:
When you choose a VPS server in the USA, you'll experience improved performance and reliability. A VPS server hosted in the US offers superior connectivity speeds to all major countries around the world, due to its proximity and high capacity infrastructure. This makes it an ideal choice for businesses that are looking to host content or websites targeted at audiences across the globe.
B) Robust Security Features:
When you choose a VPS server in the USA, you also benefit from its high levels of security. The country is home to some of the world's most stringent laws when it comes to data protection, allowing you to rest assured that your online data remains private and secure.
Which locations are available in VPS of USA?
You can now order your virtual server in New York, Dallas, Chicago, Seattle, Miami, Los Angeles when ordering.