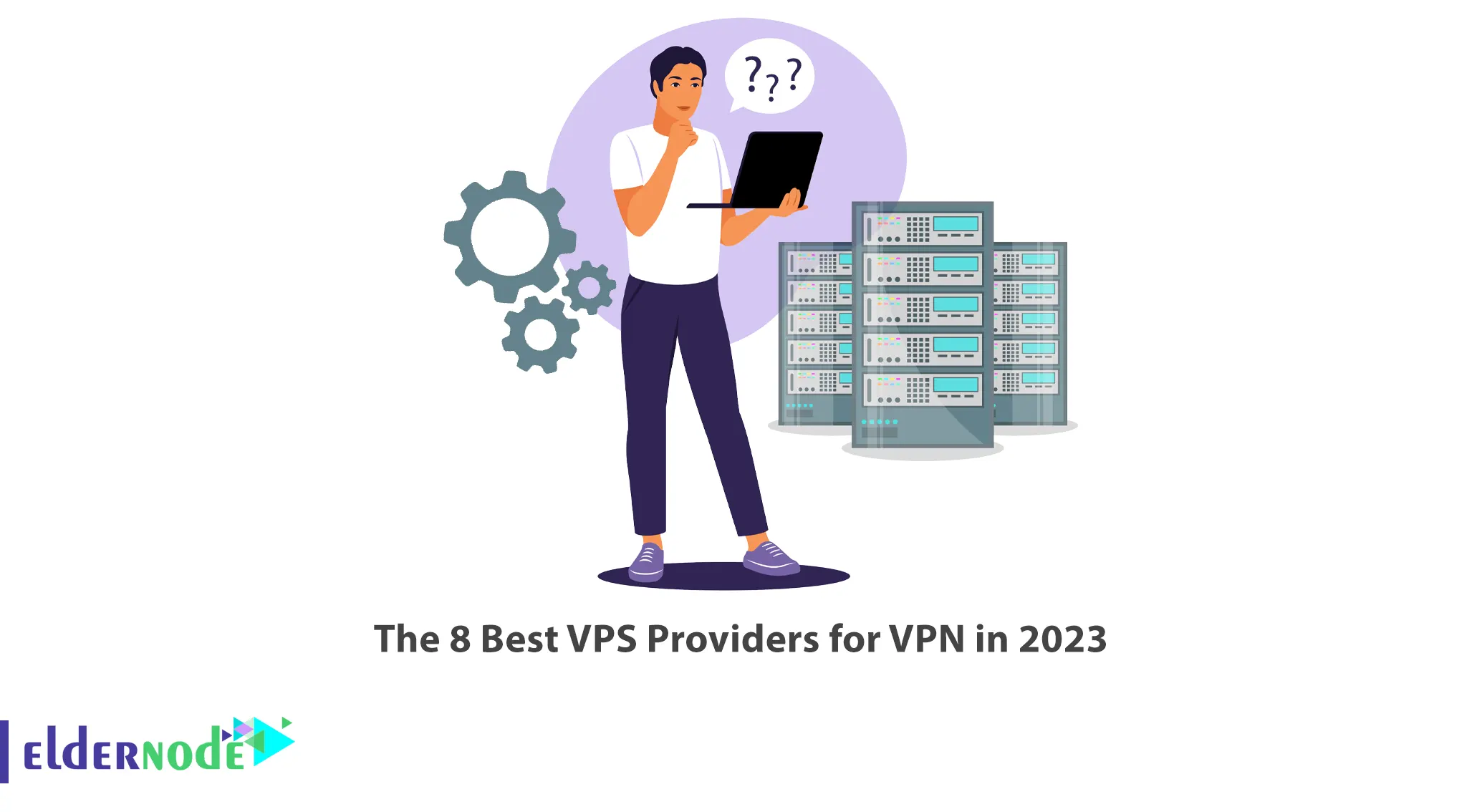 VPS or Virtual Private Servers are divided into smaller parts to be available to other users. There are a lot of VPS Providers for VPNs and it is difficult to choose the best VPS hosting provider. This article will introduce you to The 8 Best VPS Providers for VPN in 2023.
What are The Best VPS Providers for VPN in 2023?
You need to choose a reliable website to buy VPS. VPS providers usually provide subscribers with more resources to make their websites run faster and better. In the following, we introduce a complete list of several reliable websites along with their advantages and disadvantages. So that you can easily find the best virtual server provider in the shortest possible time.
1- Eldernode
Eldernode is one of the best and most popular VPS server providers in the world that has Instant setup VPS servers. This company provides the best service that users need with different plans and conditions. Users can purchase desired plans according to their needs, or if they need different plans or different software, they can request it through a ticket. You can pay for your order in any way you want like all cryptocurrencies, PayPal, Visa card, MasterCard, Perfect Money, etc. There are more than 20 VPS server locations offered on the Eldernode which are North America, Europe, Asia and Australia.
Features:
– Instant VPS setup
– More than 20 VPS location
– Linux and Windows-based VPS servers
– 99.9% Uptime
– 24/7 Dedicated Support
– The most Affordable Price
– Full Admin Access
– DDoS Protection
– SSD Storage
– Ability to Choose and Change the Operating System
– 30 days money back guarante
– Payment with Crypto (Bitcoin, Ethereum, LTC, XMR, …)
2- Hostinger
Hostinger is a Lithuanian provider that operates internationally and is one of the cheapest VPS hosting providers. 15,000 new clients sign up on Hostinger every day. In fact, it has more than 29 million customers from 178 countries. This company's VPS server packages can scale easily and can be a great option for startups and SMBs and in general, those working with a limited budget.
Features:
– Affordable prices
– Dedicated IP address
– Has options for Linux and Windows users
– Unlimited 100 GB/s network
– Latest version of Xeon servers with solid-state drives
– No live chat support
– Not suitable for high-traffic websites
3- GoDaddy
GoDaddy has more than 80 million domains registered and 20 million clients and has a large share of the web hosting market in the United States. It provides various services such as domain registration, VPS server, WordPress hosting, Linux, and Windows in North America, Europe, and Asia. In this hosting, there are many different types of VPS that meet the needs of clients. Therefore, in RAM, NVMe memory and SSD are different from each other. Offering flexible billing for one-month to 10-year plans and a free SSL certificate are other good features of this hosting.
Features:
– Top-notch uptime
– Linux and Windows-based servers
– Website-builder software
– No cloud hosting
– Not providing many default emails
4- GreenGeeks
GreenGeeks, founded in California, claims to be the number one web hosting provider for green energy companies in the world. One of the most important strategies that GreenGeeks pays special attention to is investing in renewable energy. Even if you plan to buy the cheapest shared hosting in this company, you will still have unlimited bandwidth, backup, and free SSL.
Features:
– 99.9% Service Uptime
– Dedicated IP address
– Free Website Transfer
– Free SSL Certificate
– Including cPanel
– 300% Green Hosting
– Enterprise-Class RAID-10 SSD Storage
5- Inmotion
InMotion is another VPS provider company and during its 20 years of operation, it has been able to perform well by using the best tools and technologies such as cloud computing in providing a dedicated server, virtual server, support, and security. InMotion stands out among its competitors due to its very low price, security, and reliability.
Features:
– 90-day money-back guarantee
– Automatic backup
– DDoS protection
– Malware protection
– Not having Windows hosting for shared hosting
– No monthly bills for shared hosting
6- Bluehost
Bluehost is known as a popular WordPress hosting provider and ranks first in hosting for small businesses. This web hosting managed to register more than two million domains in the world in less than two decades. Bluehost virtual server features include 60 GB of SSD memory, 4 GB of RAM, and 2 TB of bandwidth.
Features:
– Affordable prices
– Free domain registration
– Free SSL certificate and CDN
– 30-day money-back guarantee
– Including cPanel/WHM
– Root Access
– Multi-Server Management
7- HostGator
HostGator is known as one of the most popular hosting providers in the world. It has been operating for more than 20 years and hosts more than 10 million domains for different users. The prices of services provided in this hosting are somewhat expensive. This hosting has done very well in providing shared hosting with high bandwidth features, unlimited disk space, a free domain for one year, and a free SSL certificate.
Features:
– High uptime
– Malware protection
– Backup
– Relatively expensive price
– Some plans do not have a Windows Server option
8- Namecheap
Namecheap is one of the VPS hosting service providers with affordable prices. It offers the best starter pack for both beginners and professionals at the best price. The Namecheap's starter plan provides 2 Core CPUs, 2 GB RAM, 40 GB SSD storage, and 1 TB bandwidth with full root access and OS selection.
Features:
– Dedicated IP address
– Operating System Selection
– Root Access
– Backup
– 30 days money-back guarantee
Conclusion
You need to choose a reliable website to buy a VPS. In this article, we introduced you to the 8 best VPS provider for VPN in 2023. I hope this tutorial was useful for you and helps you to find the best VPS provider. If you have any questions or suggestions about the tutorial Server, you can contact us in the Comments section.