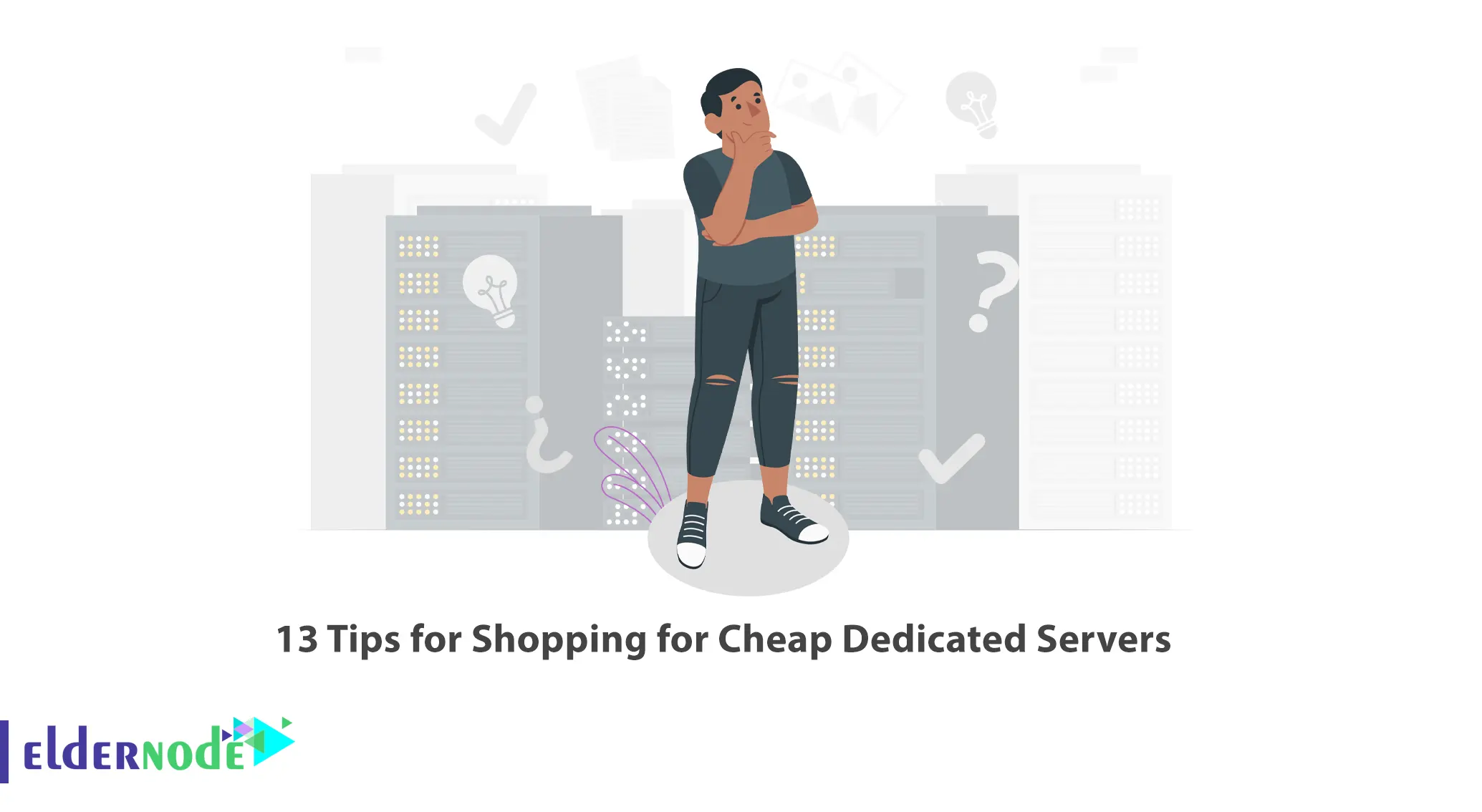 Nowadays, there are different types of web hosting services that differ in terms of performance, price, etc. Dedicated servers are one of these hosting services which is the best choice for businesses that need to have more control over their servers. This article will teach you 13 Tips for Shopping for Cheap Dedicated Servers. We provide the best and cheap Dedicated Servers and you are guaranteed our full range of expertise regarding Dedicated server solutions.
Shopping Cheap Dedicated Servers
The Dedicated Server is a type of web hosting in which a physical server is assigned to a specific customer, and in which the customer uses all the server's facilities exclusively. All of the resources of the dedicated server such as processor, hard disk, RAM, and bandwidth are dedicated to the user. In fact, you can access a remote server individually and you have full control over the server. In fact, it allows users to provide the best online and global business and grow their online business very fast and with quality.
Reasons to Buy Cheap Dedicated Servers
In the rest of this article, 13 tips for buying cheap dedicated servers will be explained to you. After reading these reasons, you can proceed to purchase dedicated servers.
1- Security 
One of the important factors that you should pay attention to before buying a dedicated server is its security. Dedicated servers are highly secure and reliable. All server resources are available to the user and you can make any security settings on it. But the advantage of our dedicated servers is that they are provided with a firewall. This advantage prevents all DDOS attacks and so on. You can also ask us to install a hardware firewall on your server to protect you from hacker attacks.
2- Bandwidth
Bandwidth is another feature that you should pay attention to before choosing a dedicated server. In fact, Bandwidth is the amount of data that can be transferred in a network at a given time. Most web hosting companies offer dedicated servers with limited bandwidth. Meanwhile, we offer the cheapest dedicated server plans with unlimited bandwidth.
3- Uptime
Uptime is the time when the website or web service is available to users in a certain period. One of the most important reasons that lead people to dedicated servers is the uptime of the sites. Most dedicated servers are designed to guarantee a high level of uptime so that your site can withstand high traffic or high levels of user interaction. The dedicated servers provided by Eldernode also have 99.9% uptime.
4- IPV4/IPV6
When buying a dedicated server, you should pay attention to whether the provider company offers IPV6 along with IPV4 or not. IPv4 and IPv6 are two versions of the Internet Protocol. Internet Protocol is designed to be used to establish communication between interconnected systems to send packets over a communication network. IPV6 protocol has many capabilities and features compared to IPV4. Among these capabilities, we can point out the lack of NAT, better routing, more flexibility than IPv4, easy management, and no need for a DHCP server. In addition to IPV4, we also offer IPV6 on our dedicated servers, which you can choose depending on your needs.
5- Operating Systems
The ability to control and manage the server is another point that you should consider before buying a dedicated server. To make it easier to manage your server, it is better to choose a host that offers different operating systems and allows you to install custom applications. We offer dedicated servers with various operating systems that you can order according to your needs. The available operating systems are Windows family, CentOS, Ubuntu, Debian, and VMware ESXi Hypervisor.
6- Available Locations
Dedicated server location is one of the most important points to pay attention to. It is better for you to choose a location that has the shortest distance between you and your users. So be sure to pay attention to this point before buying. We at Eldernode have tried to provide the best-dedicated server locations that are popular. There are more than 8 different locations on our list which are the USA, France, Netherlands, Germany, UK, Japan, and Singapore. If you need another location that is not on our list, you can request it through a ticket or online chat to add your desired place after checking.
7- Hardware
Before choosing a dedicated server and buying it, you should make sure that it offers quality and comprehensive hardware. Hardware features can include options such as CPU model, number of cores and speed, RAM size, RAM type, hard disk capacity, hard disk type (HDD or SSD), Bandwidth, and RAID. We offer the best hardware features in our dedicated servers and you can be sure of the quality of your server.
8- Control Panel 
You can order a web management panel in addition to a dedicated server from some dedicated server providers. The control panel allows you to do many things like controlling mailboxes, FTP accounts, databases, web statistics, and more through an easy graphical interface. Each of the host's control panels has the same function but has its own customized features. In Eldernode, you have the possibility to order your own control panel next to your dedicated server.
9- Availability
The host that you choose to buy a dedicated server should guarantee the high availability of its server. Because most of the dedicated servers run important services and if they go offline, it can cause serious and irreversible consequences. You can be sure that our dedicated servers are highly available and we guarantee high availability.
10- Cost
Dedicated servers are more expensive than other web hosting options and are suitable for those with a large budget. But the prices of dedicated servers in different provider companies are different and you should pay attention to this before choosing. We have provided you with the most affordable dedicated server plans that have the best quality.
11- Technical Support
It is better to choose a provider company that offers high-level support in its dedicated server services to identify and fix any problems. In this case, you will be able to use the advanced technical knowledge of professional consultants. We provide high-level support for all our services. Our support is available 24 hours a day and your requests will be processed as soon as possible.
12- Raid 
Before buying a dedicated server, pay attention to the fact that the hosting of your selected server offers both Software Raid and Hardware Raid when purchasing. A software RAID may expose data to corruption due to defects in the RAID software used. Delays may also occur due to heavy processing. Hardware RAID offers better reliability compared to software RAID. You can choose Software Raid or Hardware Raid when ordering our dedicated server.
13- Storage
The main characteristic of a dedicated server lies in its processor speed. A computer equipped with an SSD can boot in less than 1 minute and sometimes even in a few seconds. So it is better to make sure that your dedicated server has SSD storage. An SSD works the same as an HDD, but data is stored on interconnected electronic components that retain files even after a power outage. You can buy a dedicated server with SSD storage from Eldernode to increase your processing speed and efficiency.
Conclusion
Before buying a dedicated server, you should pay attention to some things in order to choose the most suitable one among the different provider companies and their plans. In this article, we explained 13 tips for shopping for cheap dedicated servers. I hope this tutorial was useful for you and helps you to understand tips for shopping for cheap dedicated servers. If you have any questions or suggestions, you can contact us in the Comments section.